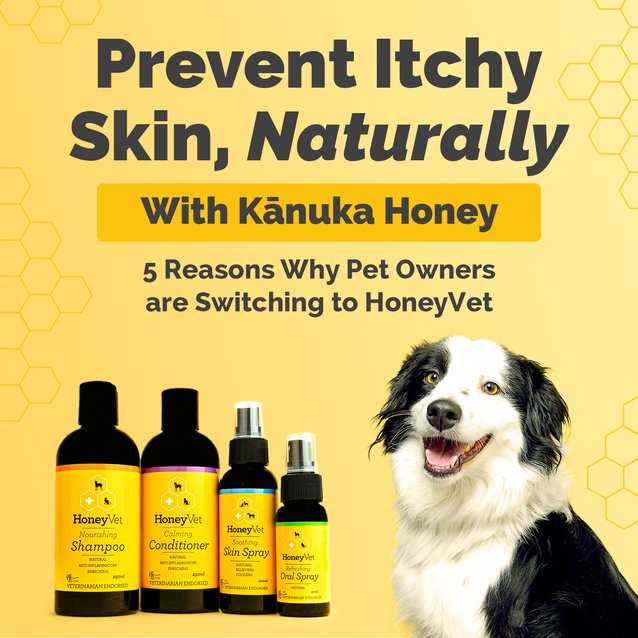 Improving Pet Health With the Natural Healing Powers of Kānuka Honey
Here's why pet owners all around the country are switching to HoneyVet

HoneyVet's hero ingredient, Kānuka Honey, has proven anti-inflammatory properties. This clears up itchy areas and soothes the skin.

Uplifts Mood & Mental Wellbeing
Constant itchy dry skin is painful and stressful for animals. HoneyVet relieves pets so they can return to being their normal happy selves.

HoneyVet is used and approved by vets. Many say it's their favourite product they use to treat their animals.
Unlike most other pet products, HoneyVet doesn't include any harsh chemicals. Many owners even use HoneyVet on themselves!
Hydrates Coat & Adds Natural Shine
Honey is a humectant, meaning it draws in moisture from the air and locks in moisture for ultra-nourishing hydration.
Save 20% With the Complete Care Routine
Cleans, Heals & Repairs, Naturally
Loved by Pets, Endorsed by Vets
"I've been a vet for 20+ years and have used nearly every pet product available. HoneyVet has been the most effective and, because it's made with natural ingredients, I feel comfortable using it on all animals."
We always source the highest quality ingredients and we never water them down. All of our products are then packaged right here, in New Zealand
Our hero ingredient, Kānuka Honey is proven to gently aid irritated and inflamed skin and draw in moisture for ultra-nourishing hydration. Purr-fect for use on our furry friends.
Oatmeal has been used for centuries as a soothing agent to relieve itch and irritation. After researching this natural healer, we knew we had to add it to our ingredient list.
Combined with the nourishment and anti-inflammatory qualities of the Kānuka Honey, Aloe Vera offers extra relief for highly sensitive skin. Healing as it soothes and calms the skin.
HoneyVet
vs. Other Pet Products
Uplifts Mood and Mental Wellbeing
Uplifts Mood and Mental Wellbeing
Our pets love our products and we're sure yours will too. If you're not satisfied, you can return your order within 30 days for a full refund.
My pet's skin reacts badly to pet shampoo, is HoneyVet safe to use?
Which kinds of pets is this for?
Is this safe for human use?
Can I use HoneyVet products on a puppy or kitten?
What is the difference between Kānuka and Manuka Honey?
Where can I buy HoneyVet products?